Art and Politics events: Featuring, Moonwalking Jesus, Andrea the Giant, Obama, and Fully Loaded Churches
Posted in The Gnovis Blog
This weekend, I was lucky enough to attend a couple of great events that shared a common theme: art as a political force.
First, I'd briefly like to promote Georgetown's Performing Art's performance of
"…and Jesus Moonwalks the Mississippi".
I was 100% impressed this performance. I know we're all burned out from mid-terms, but this performance is definitely worth it.
Order tickets here. They will sell out.
At the second event, Sheppard Fairey and Al Farrow were at the Corcoran engaging in a casual dialogue. Sheppard Fairey created both the punk icon Andrea the Giant has a Posse and more recently the highly popular blue and red high contrast portrait of Obama.
On the surface these two visual political statements are quite different:

Although these two images seem to have little in common other then phenomenal viral dissemination, Fairey's walked the audience down the personal and political journey that brought him from the anti-politics of Andre to hope-based politics of Obama.
Al Farrow's art also makes a political statement although this image does his sculptures no justice.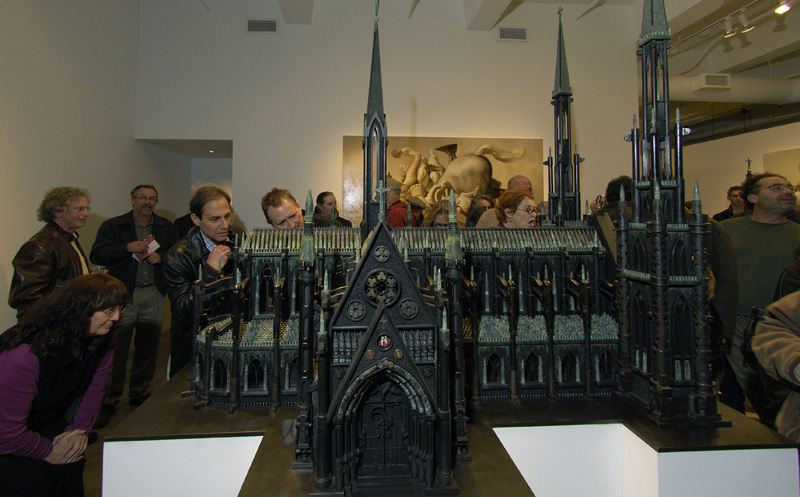 This gothic style cathedral is made completely out of guns, bullets, and human body parts.


The materials in Farrow's sculptures retain their original meaning, but by integrating these materials into the form of a religious monument, each of the divergent meanings snowball into a semiotic avalanche that is shockingly new yet inextricable from the old. By integrating materials and forms usually kept distant in art, these beautiful sculptures force the viewer to confront Farrow's political and ethical message. To see more of Farrow's work, see his website.
Several of Fairey and Farrow's new pieces, along with several by artist Paul D. Miller, are on display in Irvine Contemporary. Go check them out!
For bourgeoning semioticions out there, the complicated interplay of borrowed and created meaning in all of Fairey and Farrow's art are ripe term paper material. I would claim it for myself if I didn't have to focus on thesis topics right now. Any takers?