Call for Book Reviews
Posted in Announcements
We are accepting book reviews for the academic year 2022-2023. We are interested in reviews of the books listed below. Interested CCT students may receive free copies of the books by contacting gnovis@georgetown.edu.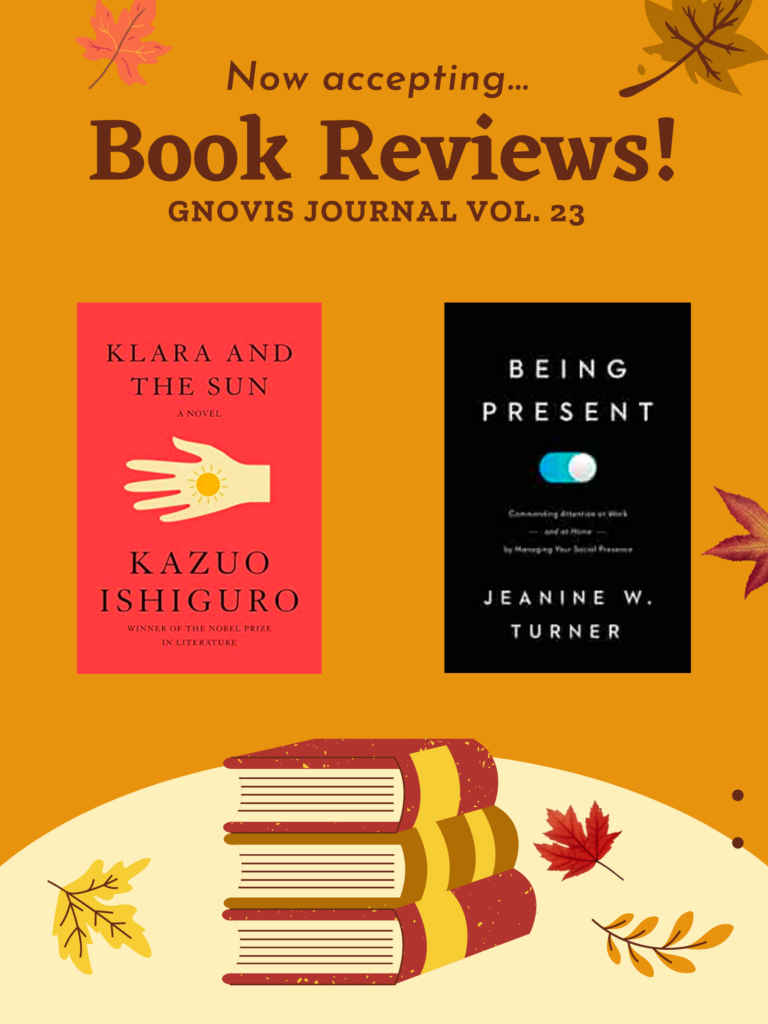 What are we looking for?:
• Approximately 600 to 1000 word essays
• Be constructive in your critique
• Position the book in its greater scholarly field
• Explicitly state the argument/question of the book
• What did you take away?
• How does it make you think differently about the field?
Book title:
"Being Present: Commanding Attention at Work and at Home by Managing Your Social Presence" 
Author:
Jeanine Turner 
Book description:
As our ability to pay attention in a world of distractions vanishes, it's no wonder that our ability to be heard and understood ― to convey our messages ― is also threatened. Whether working with our teams and customers or communicating with our families and friends, it is increasingly difficult to break through the digital devices that get in the way of communication. And the ubiquity of digital devices means that we are often "multicommunicating," participating in multiple conversations at once. As a result, our ability to be socially present with an audience requires an intentional approach.
Drawing from fifteen years of research, interviews, and experience from teaching students and executives, Jeanine W. Turner offers a framework to navigate social presence at work and at home. By exploring four primary communication choices ― budgeted, entitled, competitive, and invitational ― Turner shows when and where to employ each strategy to most effectively allocate our attention and command the attention of others. Each chapter includes concrete strategies and concludes with reflection questions and exercises to help readers further explore these decisions in professional and personal relationships.
Book title:
"Klara and the Sun": A novel

Author:
Kazuo Ishiguro
Book description:
NEW YORK TIMES BESTSELLER • Once in a great while, a book comes along that changes our view of the world. This magnificent novel from the Nobel laureate and author of Never Let Me Go is "an intriguing take on how artificial intelligence might play a role in our futures … a poignant meditation on love and loneliness" (The Associated Press). • A GOOD MORNING AMERICA Book Club Pick!
Here is the story of Klara, an Artificial Friend with outstanding observational qualities, who, from her place in the store, watches carefully the behavior of those who come in to browse, and of those who pass on the street outside. She remains hopeful that a customer will soon choose her. Klara and the Sun is a thrilling book that offers a look at our changing world through the eyes of an unforgettable narrator, and one that explores the fundamental question: what does it mean to love?